Hey friends! 
The summer has flown by quickly, and we're already experiencing a (tiny) dip in temperatures here in The Shoals. 
Earlier this month, we celebrated Melissa's birthday and our 15th wedding anniversary!!  We went up to Nashville to enjoy some music and play some music ourselves.  It feels like a pretty significant milestone for a couple of road-weary travelers.  It also feels like we're just getting started. :)  pictured below, sunrise in Nashville at a place called Love Circle. awwww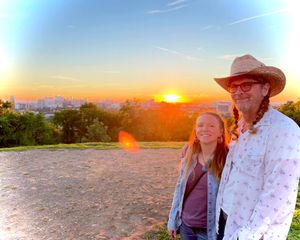 We also got to play a local event called First Friday Florence!  Here's a clip from the performance, captured by a fan, Jackie Flowers.  The song is the latest incarnation of our song, It's Gonna Rain (which was on our Sweet Jones Home Vol. 1 album, circa 2015). 
We're really loving this new version and are planning to record it for the next studio album. 
In less than exciting updates, a 'bump in the road' happened at the end of July...our trusty in-town vehicle, Element, got into a very minor fender bender...everyone is fine, she still runs, but will need some front end work to be street legal again.  Sigh.  We'll have to wait on that project, as our next financial project includes making the next record!! (more on that at a later date). Fortunately, we have Doris (the van), and gas prices are beginning to go back down some. 
Autumn is shaping up to be a very busy season for The DRR, and we're excited to travel and share the music. 
Coming up next weekend, we return to Tupelo, MS: 
Fri. Aug. 26th - 6pm at Amsterdam Deli, Tupelo 
Next month, we head back to Nashville to attend Americana Fest and we have a non-showcase show that weekend as well.  We'd gone to the free portions of the festival in 2019 and had so much fun that we bought passes to go in 2020...fortunately, the festival allowed us to forward our passes to 2022.  And now that we're just down the road from the bright lights and big city, it's not such a trek to get up there. 
In October, we have the most shows booked in one month than we've had since pre-2020.  Very. Excited!! Some local, some regional, and at the end of October, we head back to TEXAS for a short run. 
See our full schedule here for all the details. 
In other news, if you've read this far...THANK YOU!!!  It means a lot to us to have folks like you out there listening, coming to shows, and sharing our music and story. 
To that end, we want to bring merch back into the fold; we haven't felt called to have merch for awhile, but we've signed up with a company who does print-on-demand and ships it out to you as you order it. 
What kinds of things would you like to see in the merch store? 
Do you have a design idea that you think would suit our vibe? 
We'd love to hear from you.  Let us know. 
Until next time, as always... 
Be Safe, Be Kind, and BE LOVE!