Hello Friends, 
Such incredible and intense times we are living through.  These last couple of weeks (or so) have been unprecedented and are shifting the consciousness in significant ways. 
It's sometimes hard to know what to say right away, so we've spent a lot of time reading, listening, sighing, meditating, and learning.  The journey towards Unity and healing centuries-old injustices will not be remedied in a day, a week, nor months.  This will be a life-long process that we all take part in. 
We are grateful that we have music as a tool of expression and release. 
This past Saturday, we book-ended our live-stream session with two Bob Dylan protest songs, and donated our live-stream tips to the New Orleans Safety and Freedom Fund. (Their mission: "Together, we will make New Orleans a safer, more equitable place to live, by redesigning the role money plays in the criminal justice system.") 
Thank you so much for tuning in, for listening and as always, for your love and support!! 
Matthew spent the weekend editing and mixing audio+video for one of those songs, and we've posted it here! 
IT'S ALRIGHT MA (I'M ONLY BLEEDING)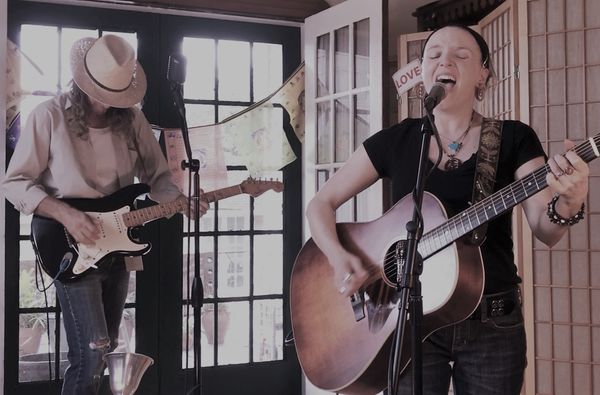 Please like/subscribe/share the video if you feel so inspired and moved to do so. 
There are links in the video description of places you can donate and petitions to sign. And there are many articles and resources online to read up on the various ways we can work towards becoming an anti-racist society. 
"Do what you can with you've got, even if it's not a lot, a lot can be done. 
Now is the time to activate, educate, elevate and love vs hate." 
Melissa DeOrazio 
Saturdays at 12pm CST - LIVE FROM THE PORCH 
We are continuing to stream live, every Saturday, on Facebook! 
Visible to non-facelookers and posted to the page 
after each performance. 
NEXT IN-PERSON SHOW! 
Sunday, June 14th - 7-9pm 
Maglieaux's Riverfront Restaurant 
805 Washington St. 
Natchitoches, LA 
Thanks so much for the continued love, support and encouragement!  It means the world to us! 
We're so grateful to be in (virtual) community with you. 
BE SAFE and BE LOVE! 
xoxo M&M 
Melissa and Matthew DeOrazio 
The Dirty Rain Revelers