Mr. D. has been steady at the helm of iMovie the last few days, putting together new music videos for you!  Check out the first music video for
Welcome Home
(from our latest album, Home: Vol. 1), and 'Gypsy Blue' (Live at Maison Blues in Slidell).
Roots Music Report posted their
review of Home: Vol. 1
  Weeee!  Thanks Duane!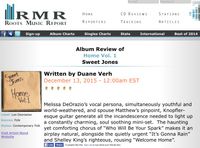 2016 starts off right, with a show on January 1st at Banks Street Bar.  We'll play just a quick 45 minute set from 7pm-7:45pm sharp.  This is for the Unite the Vibe Festival taking place there all of New Years Week/Weekend.  Fun!! 
Be sure to RSVP for Sweet Jones here -
https://www.facebook.com/events/480924672089381/
Then we hit the road again, to Austin for a show at the Driskill Hotel Bar on January 7th. 
Check the calendar
for more updates and current show listings.  We'll be adding more soon!