Hey friends, 
As I'm sure you've been experiencing, we too are experiencing rapid changes and soul updates in these times.  We're doing our best, as always, to stay rooted in love and remind each other to breathe through it all. 
Progress on the live recording mixes are intermittent as we find the time to work on them.  We are hopeful to have a digital release for you this summer...tbd. 
As we look ahead toward the summer, we're looking forward to getting back on the road and exploring some new territory. 
Progress on our beloved Doris (our transit van) is under way again as well, now that the weathers have shifted in our favor.  Pics coming soon! 
Coming up in the immediate weeks ahead - 
SUN APRIL 25TH - JEFFERSON, LA 
POUR HOUSE SALOON 4-6PM 
FRI & SAT MAY 7TH-8TH -  AUSTIN, TX!!!! 
THE DRISKILL - 7-9PM 
We make our joyful return, fully vaccinated, to downtown Austin, playing Friday AND Saturday night at The Driskill Hotel & Bar. 
What we've been listening to lately besides music, of course: 
Podcasts: 
*Cocaine & Rhinestones: The history of 20th century country music (Tyler Mahan Coe is an incredibly thorough researcher, musician, witty writer and his delivery of these stories are incredible.  We listened to season 1 a few years ago, and patiently waited for season 2, out now, and well worth the wait!) 
*Morgan Harper Nicholls - She's an incredible poet, author, artist and musician with books, gifts, stationary and more, full of inspirational words and colors.  You can find her on Instagram  and through her website Garden24.co 
*One by Willie - produced by Texas Monthly, this program features one Willie Nelson song, discussed with a different notable songwriter each week.  It's incredible music history, legendary stories and of course, amazing music.  
What podcasts/stories or music have you been listening to? 
We so look forward to seeing you all in person as we can, and as our travels grow and expand again.  Rebuilding tour paths after a year away may not happen as quickly as it all fell away, but we are patient and grateful for the journey, however it unfolds.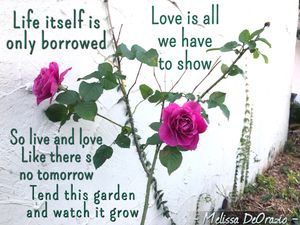 As always, in all things, BE LOVE!!  
Thanks so much y'all!!!     xoxo M&M    
Melissa and Matthew DeOrazio 
The Dirty Rain Revelers