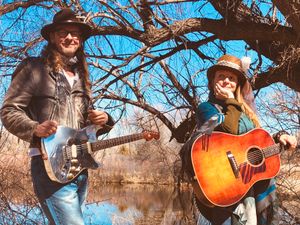 Hey friends,
Another month at home has passed by, somewhat slowly and yet rather quickly in other ways.
It's hard to know what comes next, particularly in the realm of touring and live shows.
We are continuing onward with our livestream sessions, and have started to record some of them for future digital releases; we also are pondering the possibility of putting those streams on YouTube for those of y'all that are not FaceLookers.
We're steady at the helm with writing new songs, creating yoga videos and nourishing ourselves with plenty of safe-fresh-air via our daily walks, which serve as our think-out-loud and plan time.

TOMORROW! We have a SPECIAL live stream happening from The Art Garage, a groovy art space in New Orleans.  They've invited us to play TOMORROW, 5-04 in the 504 :)
Event link here. Tune in to their FB page Monday, May 4th at 8pm CENTRAL time.
 
Saturdays at 12pm CST - LIVE FROM THE PORCH
We're streaming live, every Saturday, on Facebook!
Visible to non-facelookers and posted to the page
after each performance
Click to Subscribe to the DRR YouTube channel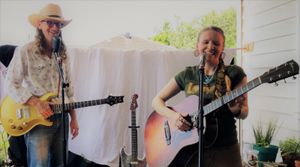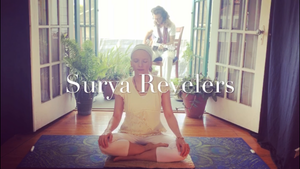 Wednesdays at 9am CST - Yoga and meditation music with our other incarnation, Surya Revelers, also streamed on Facebook; We're also in the process of filming and recording yoga/meditation videos that we can share to our Surya Revelers YouTube.  If you're interested, please subscribe to the channel.
We've got several stress-relieving meditations posted now, and a couple yoga sets as well. Let us know how it goes for you when you practice with us!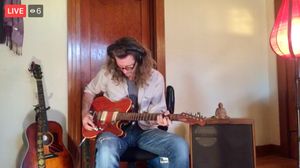 And Matthew has been doing an early morning livestream via FB as well - 
'Meditation Blues with El D'.
Every Thursday morning, 6:30am CST
Other ways to send us virtual hugs and support our musical offerings:
*Buy merch
*Subscribe to our YouTube channel and/or share videos with your friends
*Listen and share on Apple Music,  Spotify  and Amazon
*Like our FB page and share with your friends
By directly donating:
VENMO
Thanks so much for the continued love, support and encouragement!  It means the world to us!
We're so grateful to be in (virtual) community with you and we SO look forward to getting back on the road and playing live-in-person shows.
Until then, STAY HOME, BE SAFE and BE LOVE!
xoxo M&M   
Melissa and Matthew DeOrazio
The Dirty Rain Revelers   
Instagram
Facebook
DRR YouTube
El D YouTube