Hello Friends and Happy New Year! 
We're so grateful for the epic year that was 2018 for us, and you all helped make it possible. 
25K miles, and a full year of shows, including many new states and places we'd not yet been; 
a new DRR record; NCIS: New Orleans TV appearance and song placement; 
Melissa played her first Bass guitar gigs; Matthew continues playing with Shawn Williams (who is nominated for two Offbeat Awards here in New Orleans!) 
One day at a time, we keep truckin' down the path, our heads still atop our shoulders and joy in our hearts; and as always, we hope that the joy is contagious and reaches you. ;) 
TOUR TIMES 
We've got some travelin' shows coming up! 
We'll be heading out through Georgia and Tennessee this weekend, and then Texas in Feb-March. 
See the CALENDAR for all of the details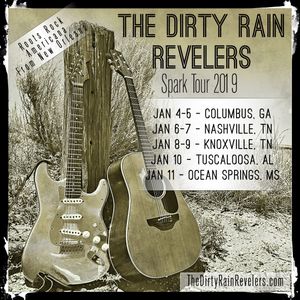 We're beginning to visualize the summer tours as well; if you'd like a house concert and/or yoga workshop, let us know! 
May 2019 find you filled with peace, joy and many blessings. 
With much love and gratitude....see you soon.  xoxo M&M