Hey Folks!  
We're excited to announce some changes:
Our radio show on 102.3FM WHIV will now air at 7pm CST on Wed's and will be called Killin' the Blues with Los DeOrazios
We're grateful to be part of this community-supported radio station that is dedicated to Human Rights and Social Justice.  We'll be posting the playlists on our Los D's FB page, and if you like, you can send us messages/song requests/show announcements there.
Surya Revelers Medicine Music (which was the radio show + yoga/mantra band), will now just be Surya Revelers and dedicated to yoga/mantra/workshop events.  In fact, we've got a workshop coming up in October in Knoxville, TN (see flyer below).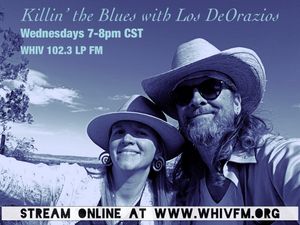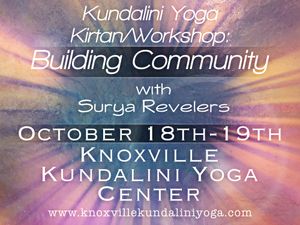 UPCOMING DRR SHOWS:
Fri 9/6 8-10:30pm: Checkpoint Charlie's   
501 Esplanade Ave. New Orleans, LA
Thur 9/12 9pm: Springwater Supper Club   
Nashville, TN
AMERICANA FEST!!!
Thur 9/19 8:30pm: Portside Lounge  
3000 Dryades, NOLA  
with special guest Bob Rod who will be spinning classic country records before and between sets
Thur 9/26 10pm: Egan's Bar  
Tuscaloosa, AL 
Sat 9/28 9am-12pm: Covington Farmers Market  
Covington, LA  
Sun 9/29 9-11pm: Carnaval Lounge (formerly Siberia)
St. Claude Ave. New Orleans, LA  
Full listings and show details here 
We'll be heading out again in October for the Knoxville Kundalini Yoga workshop, plus shows in Tupelo, MS and Asheville, NC.  We'll send out another message in a few weeks with more info.
Thanks so much y'all!!!  
xoxo M&M  
The Dirty Rain Revelers