Happy Leap Year! 
We're currently in Bisbee, AZ on our way to NM next and in the midst of our Escape Mardi Gras tour in the Great Southwest! 
We're enjoying the desert air and meeting many kind folks along the way. 
It's good to hit the refresh button periodically and breathe in new landscapes...essential to the creative impulse. 
March isn't just the name of the month, it's the action to describe the happenings! 
March is the fullest calendar we've seen yet for music land and we're so incredibly grateful and excited to be able to share all this music, joy and kindness with you all.  Thank you all for being a part of this journey! 
Upon our return from tour land, we've got some amazing shows to return to back in Louisiana! 
Wed. March 18th at 4pm CST - We'll be interviewed on and performing a few songs for the the It's New Orleans Happy Hour podcast, which will be live-streamed to Facebook from the Maple Leaf in New Orleans. 
THUR. MARCH 19TH - OGDEN AFTER HOURS, 6-8PM - 925 CAMP ST. 
It's an honor and a delight to be showcasing our music at the Ogden Museum of Southern Art. 
TICKETS AVAILABLE HERE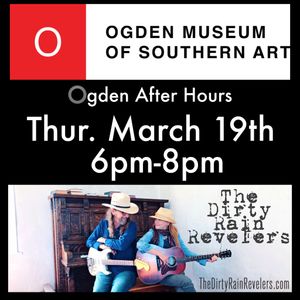 Sat. March 21st - The Rock & Rouge Women's Music & Food festival on in Lafayette Square, downtown New Orleans 
Catch our BAND SET! 11:55am-12:35pm; Then catch Matthew with Shawn Williams right after us!  Tons of music and food all day, so come make a springtime day of it at Lafayette Square! And Melissa will be on the afternoon panel of speakers at 2pm!
Tickets available here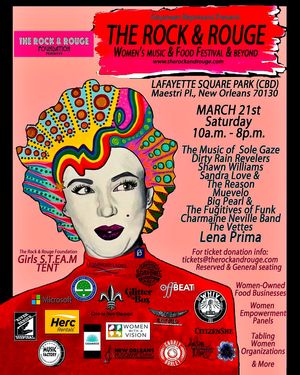 MORE MARCH SHOWS: 
Sun. March 22 - Third Street Songwriter Festival in Baton Rouge, LA (12PM) 
Thur. March 26 - Egan's Bar in Tuscaloosa, AL (10PM) 
Fri March 27 - DMac's - New Orleans (6-8:30PM) 
Sat. March 28th - The Wurst Biergarten - Lafayette, LA (10PM) 
with special guest Cristina Vane (Nashville-based artist) 
Sun. March 29th - BMC - New Orleans (12PM-2:30PM, daytime!!) 
with special guest Cristina Vane (Nashville-based artist) 
Mon. March 30th - Gasa Gasa - New Orleans 9pm 
with Paris Achenbach (NOLA) and Norman Baker (Seattle) 
We hope to see you at one ore more of these magical happenings... 
Thanks so much y'all!!!     xoxo M&M 
Melissa and Matthew DeOrazio 
The Dirty Rain Revelers