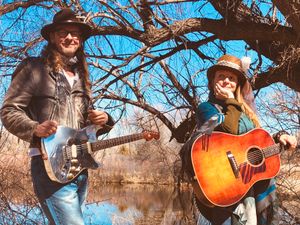 Hey friends, 
We've come to the end of our Escape MG tour, which has turned into Escape CV.  Strange times indeed. 
We were lucky that none of our traveling shows were cancelled, but it looks like the next few weeks will be 'hide and hibernate' time.  How quickly things change...It'll be a good time to work on new songs and recordings!  
We've posted two videos that we captured from out in West Tx HERE.
We had such an amazing time out west, and want to thank all of our friends and fans for their kindness, generosity and hospitality along the way.  All of you help us make this path possible.  
We're home and resting us for a couple days before we dig in to making some music at home, and hopefully sharing that with you all, virtually. ;) 
Check our calendar and FB for updates - New Orleans is in full safety mode, as is much of the country at this point, so all those gigs we told you about last month, well it looks like we're staying home now.  
We're hoping for the best for everyone, and know that this pandemic is affecting many industries, not just musicians. 
But there are other ways you can contribute to and support our musical offerings: 
*Buy merch - we have 3 small and 3 XL tshirts left before we're sold out (we'll be designing a new tshirt to roll out this summer). 
We've got CD's, of course, plenty of those, all three albums! And downloads too!
*Subscribe to our YouTube channel and/or share videos with your friends 
*Listen and share on Apple Music,  Spotify  and Amazon 
*Like our FB page and share with your friends
*Donate via PayPal or Venmo
As of this writing, our podcast "appearance" seems to be still on, but will be virtual; this may change how you see it stream live on their FB page, but may be posted after the fact.  
Wed. March 18th at 4pm CST - We'll be interviewed on and performing a few songs for the the It's New Orleans Happy Hour podcast, which will be live-streamed to Facebook. 
Speaking of streaming, we'll be doing some Facebook Live and Instagram Live performances coming up; we'll let you know a couple days ahead when we'll be posting those. 
We'll do our best to keep you informed when we know about what the future of gigs looks like. 
Until then, keep your hands clean, and BE SAFE and BE LOVE! 
xoxo M&M    
Melissa and Matthew DeOrazio 
The Dirty Rain Revelers    
 
photos by Los D's in La Cienega, NM 2020