"We're Alabama bound, going to listen for the sound 
of the Tennessee River and the songs she'll deliver" 
- Melissa DeOrazio -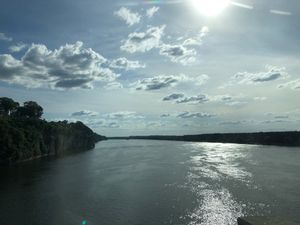 Hey friends! 
So much excitement bubbling up as the world begins to open up again and the weather begins to welcome us all outside for new adventures. 
We hope y'all are doing well and feeling good about life in this season of warmth, more gatherings and welcoming back live music into your life.  We are deeply grateful to have made it this far, mostly unscathed, and so excited to begin booking shows again. 
The booking is slow-going at the moment, as our life is hurtling towards a very new chapter, in fact, we'd call it a new book altogether. 
WE'RE LEAVING NEW ORLEANS!!!!! 
For nearly 14 years, we've had the joy and blessing of living in the Haydel family home on Dublin Street in New Orleans.  The Haydel brothers (no relation to the famous Haydel Bakery) built this house in the 1930's as a 2-family residence on a beautiful keystone lot. 
It's been a magical place for us to grow songs, heal and feel at home in a way neither of us had felt before.  We certainly had never kept one address for this long in either of our lives. 
In that time, we've built a home recording studio, made 4 records and toured countless thousands of miles. 
Another home and stabilizer of life in New Orleans has been our relationship and long-term employment with Whole Foods Market, where we've developed an expansive family network (Melissa since 2008, Matthew since 2010).  This steady foundation has allowed us to build our music career, studio, health and wellness, and allowed us to travel all those miles. 
We're so grateful for our time here and all the people and experiences, joys and sorrows, lows and highs....but as George Harrison sang, All Things Must Pass. 
The Haydel family home has now been sold to a new family. 
Pandemic life has found us searching for change and craving a quieter pace. 
We're so excited to share that we've found our very own home, in an even older house (c.1918), in the Muscle Shoals area of Alabama.  It's a beautiful place near the Tennessee River and will make for easier touring, as there are many musical towns within a 2-6 hour radius. 
We're so grateful for our time in New Orleans and all the friendships we've cultivated here, and do look forward to returning one day as guests and musicians on the move. 
Our last local-ish shows are next weekend, one being a private party, and the other is - 
Sunday, June 6th, 12-3pm 
Abita Springs Art and Farmers Market 
22161 Level Street, Abita Springs, LA 
We look forward to getting our new/old house situated and getting back to recording, and eventually touring again.  We'll be taking it slow and steady, patient and persistent.   We may not be traveling as far and wide right away, but know that we'll make it back to you, our friends and family, all in good time. 
We love you, and are incredibly grateful for your presence and positive encouragement!  We'll be sharing new music on the inter-webs as soon as it's ready, and hopefully we'll be bringing you some Live for the Porch livestreams again as well! 
As always, in all things, BE LOVE!! 
Thanks so much y'all!!!     xoxo M&M 
Melissa and Matthew DeOrazio 
The Dirty Rain Revelers