Hey folks! 
We've been in our new home in the Muscle Shoals area now for a little over one month, enjoying the region and having a blast fixing up our new old house.  As you can imagine, between pandemic-life, and the big move, our music calendar hasn't been filling up/being filled as much or as fast. 
Melissa is slowly easing back onto the email train that booking shows requires.  We imagine that it will take some time to get back to where we were pre-pandemic....but we also are continuing to take that time to re-evaluate where it is we want to be.  We're also working on getting to a point where we can set up our home studio again and return to recording.  An exciting aspect of living in the Shoals is that there are numerous recording studios here, so we may explore local options as well. 
In the weeks ahead... 
We'll be in Iowa with our friends Society of Broken Souls, playing a house concert with them on July 31st (Fairfield, IA).  On our way to them, we'll be playing on July 28th at Iowa City Market.
Early September we'll be in Clarksdale, MS and then Mid-September finds us up the road in Nashville for the Americana Music Association's AmericanaFest.  Hard to say what else we're up to between now and then, but we're just taking it one day at a time.  In the meantime, while we're not sending as many newsletters, you can find us periodically on FB and Instagram, along with the occasional YouTube upload.  Feel free to follow us on all the socials at @thedirtyrainrevelers 
Much love and many thanks to you all. 
Keep well, stay safe! 
xoxo M&M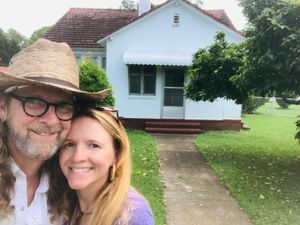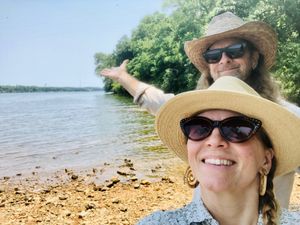 L - At home with 'Bailey' 
R - At home on the Tennessee River