Hi friends! 
We received a blanket of snow in North Alabama to start the new year!  Of course, it melted after a day, but it was a delightful vision to wake up to.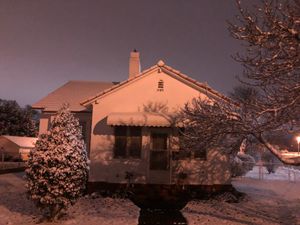 We're continuing to organize the invisible layers of the Live from the Porch album, and will be releasing it everywhere on MARCH 4TH!!  More details TBA...we'll be sending out another email with album details :) 
We did post a short teaser video here of one of the unreleased songs, Where Is My Calm? 
We've signed up with a new merch company that offers print/ship on demand, so we don't have to keep lots of inventory and can have more variety.  It's not live yet, we're still designing and figuring out what to put there.  What kinds of merch would you be interested in? Tshirts, hoodies, mugs, water bottles..Have a design idea/design skills? 
Let us know! 
We're super excited to get back on the road again, NEXT MONTH!! 
We've got a tour planned for March in Texas to promote the new Live album, and have some dates coming in May for NEW ORLEANS! It will mark a year since we moved away! 
Check our calendar and save the dates 
We got to play a show last Friday in Florence, AL at the iconic Swampers Bar & Grill.  Little did we know, that the surprise/secret show happening after our set was a reunion show from a band that used to play regularly at a place called La Fonda (now closed).  That band was where budding musicians such as Jason Isbell and Gary Nichols (both Grammy Winners now), got to hone their skills and learn from the elder musicians.  They were both there to play, along with many special guests; Jason played the whole night with them as we sat just feet away from the stage.  It was a unique, inspiring night. 
In other fun news, we're excited to share that we were featured in the Hidden Gems collection of the online magazine, Nashville Voyager!  Their mission is to promote artists, creatives and small businesses by providing a platform for highlighting hidden gems and sharing their stories. 
We look forward to seeing you in our travels! 
Look for a special email from us soon for pre-save streaming links!! 
Be Safe, Be Kind, and BE LOVE! 
xoxo Melissa & Matthew DeOrazio 
The Dirty Rain Revelers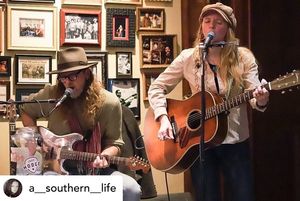 photo by A Southern Life, at Swampers Bar & Grill