IT LIVES!!! 
We've been waiting for ages to share Live from the Porch!! 
Many of you heard them live on Facebook when they emerged! 
The songs chosen for Live from the Porch reflect the times we've all been living through, and yet have a timeless quality about them. 
Forever fans of Bob Dylan, we chose to bookend the live album with two Dylan songs (Masters of War, 1963 and It's Alright Ma, 1965). 
These two songs set the tone for the mood of pandemic life and in particular, the mood of Summer 2020. 
A limited run of CDs are for sale for those that still like to have this format; 
Pre-save for Spotify streams for our Spotify streamers; 
whichever platform you prefer, our music will be here, there and everywhere MARCH 4TH! 
Please follow/share as it helps our music get heard more... 
Look for our TOUR DATES coming up in Texas and Louisiana!  We have plenty of room in the schedule for house concerts/yard jams/coffee meetups...don't hesitate to give us a call or message either of us for catch up time.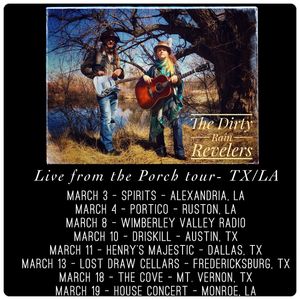 We look forward to seeing y'all in person very SOON!  Thanks so much for everything!! 
Be Safe, Be Kind, and BE LOVE! 
xoxo Melissa & Matthew DeOrazio 
The Dirty Rain Revelers