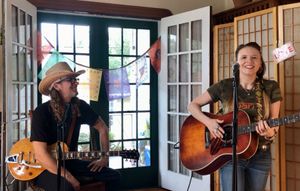 *We're in the heat of the summer and so our continued Live from the Porch sessions have moved inside for now, as today's heat index is 115.  We hope that wherever you are, you're staying cool, hydrated and patient. 
*We'll be doing a special Live from the Porch session this Friday, July 17th, at 6pm central time.  This is in collaboration with a really great movie theater/venue in Rochester, NY called The Little Theatre.  We were originally scheduled to be up there as part of our tour, and so we just kept our same date with them, but they'll be sharing our livestream to their online audience.  Yay technology! 
*We've been featured on the podcast program called Rock Paper Podcast!  This podcast, by Shane Presley, is based in St. Louis, MO.  Pre-pandemic, we were scheduled to travel through there and be on his podcast, so we kept the date and did the interview via zoom.  Another yay for technology!  
You can watch it here (Or search Rock Paper Podcast on whichever podcast platform you use, i.e. stitcher/apple etc).
*We've added a few more videos to our YouTube collection, using edited video from our Live from the Porch sessions. 
Like/Subscribe/Share! 
Saturdays at 12pm CST - LIVE FROM THE PORCH 
We are continuing to stream live, every Saturday, on Facebook! 
Visible to non-facelookers and posted to the page 
after each performance.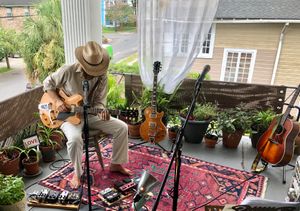 Thanks so much for the continued love, support and encouragement!  It means the world to us! 
We're so grateful to be in (virtual) community with you. 
BE SAFE and BE LOVE! 
xoxo M&M    
Melissa and Matthew DeOrazio 
The Dirty Rain Revelers