Join us on the North Shore for the Covington Porch Fest! 
Saturday, December 12th, 2-5pm 
There will be 5 porches and 5 bands, all withing walking distance of each other. 
Bring a non-perishable food item to support the North Shore Food Bank. There will be collection containers at every porch! 
We will be set up and playing at 626 N. Jackson St. Covington, LA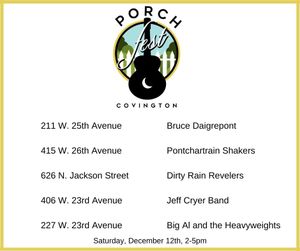 Mask up and bundle up! 
BE SAFE and BE LOVE! 
xoxo M&M 
Melissa and Matthew DeOrazio 
The Dirty Rain Revelers