Hello friends near and far! 
Mardi Gras season is upon us in New Orleans!  Which means the busier season for us, gratefully. 
We're escaping the bulk of Mardi Gras this year and heading out west.  We'll be home for a few of the special, early parades, and leaving just before it gets extra-extra here in New Orleans.  We're so excited to revisit some of our spots in AZ and NM and explore more of West TX.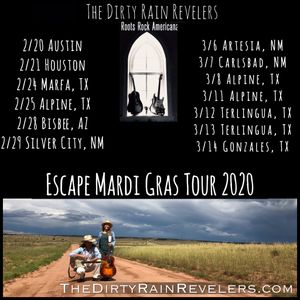 We do have some local shows to highlight between now and then - 
Tues. Jan 28th - 7-9pm - The Starlight  - 817 St. Louis in the French Quarter, NOLA 
Thur. Jan 30th - 6-8pm - La Divina Italian Cafe - Baton Rouge, LA 
Sat. Feb 1st - 12pm on WHIV FM - The Art of Kindness show with Noelani Musicaro 
Thur. Feb 6th - 6-8:30pm - Carnaval Lounge - St. Claude Ave, NOLA 
Thur. Feb 13th - 8pm ish - Sidney's Saloon - 1200 St. Bernard Ave. NOLA - with traveling Americana couple Harper and Lee 
If you have a moment, take a look at our calendar and see where we're headed, and hopefully we cross paths somewhere along the way.   
Then we return from the Escape Mardi Gras tour for a couple of big shows at home.... 
Mark your calendar for Thursday, March 19th for the Ogden After Hours series.   
It's an honor and a delight to be showcasing our music at the Ogden Museum of Southern Art.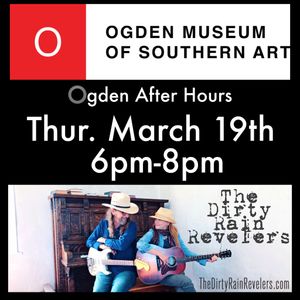 We'll be interviewed on and performing a few songs for the the It's New Orleans Happy Hour podcast, which will be live-streamed to Facebook from the Maple Leaf in New Orleans on Wed. March 18th at 4pm CST.  
That same week in March, we're part of another big show - The Rock & Rouge festival on Sat. March 21st in Lafayette Square. 
(Time tba, we'll let you know in next month's newsletter)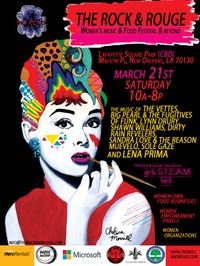 Big, huge thanks to everyone along the way for hosting us, supporting shows, helping in the various ways you do with words of encouragement, hope and hugs, house shows and the everything-everything.  
If your town isn't listed on our calendar, send us a message and let us know you'd like us to come play for you!  #HaveSoundWillTravel - We love playing house concerts and gatherings (and festivals too!  If you know of a festival we should be playing, send us a message!)  
Thanks so much y'all!!!     xoxo M&M    
Melissa and Matthew DeOrazio 
The Dirty Rain Revelers