My, oh, my, how the time flies!  I'm amazed that Mardi Gras/March is around the corner. 
We've been a bit busy since 2014 arrived.  We traveled to TX to visit family and friends, and enjoyed a little time off.  Then Melissa had a lengthy bout with a nasty chest cold/cough that slowed her down quite a bit, if you can imagine.  She's doing much better now and I think it's safe to say she's fully recovered. 
Thankfully, we posted two
Living Room Sessions
videos for you in December, because obviously, we have not yet organized a new one.  But we have several ideas brewing...we've been working on some new music with two of our friends - Cellist, Rachel Hsieh and Violinist, Raul Gomez.  We'll let you know further details when they manifest.
Raul joined us at Checkpoint Charlie's Feb 1st, and it was such an amazing night.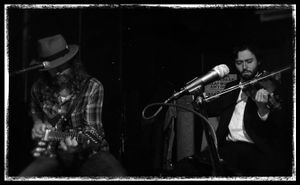 Rachel will be joining us this time, along with violinist Eva Liebhaber, string-quartet-style, on Saturday March 1st at Checkpoint Charlie's.  Fun!! The show goes 7p-10:30p, so meander your way down from the parades, and enjoy an early night in.