Hey friends! 
We had such a great time in New Orleans playing and catching up with folks! Thank you NOLA FAM!!  Grateful for the good times and so glad to be back home as we look ahead to summer adventures.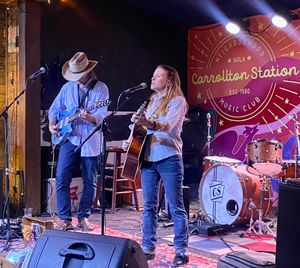 While we were in New Orleans, we had the chance to chat with David Johnson at Offbeat/Beat Cafe, a radio show and podcast on WHIV 102.3  Listen to the interview here (we're the featured during second half of the program). 
Coming up this weekend, we return to Clarksdale, MS to play at Shack Up Inn + Bluesberry Cafe. 
Sat, June 11th - 8pm at Shack Up Inn 
Sun, June 12th - 10am at Bluesberry Cafe 
Later this month, we trek back to Texas, this time playing in Texarkana, Brenham and Richards, TX. 
Fri. June 24th, 7pm at Twisted Fork, Texarkana, TX 
Sat. June 25th, 6pm at Brazos Valley Brewery, Brenham, TX 
Sun. June 26th, 3:30pm at West Sandy Creek Winery, Richards, TX 
See our full schedule here for more future dates (and windows of time when you might like to invite us over for a house concert soiree...you provide the space & friends, we provide the songs and the sound).