HAPPY 2020!! 
We're so excited to be in a new decade!  It feels more significant and hopeful than just entering a new year. 
After trekking over 23K miles just in tour miles (!!), we're winding down December with a little bit less to do-ness.  Somehow, that's more miles than we traveled in 2018, even though we went all the way to the PNW and back.  
We officially started Sweet Jones (former band name) in 2009 and it's amazing to look back on the last ten years of growth, exploration and change.  We're hopeful as ever for what the next decade brings. 
We've been steady at the helm, working towards a more full-time status of gigging and touring.  YAY!!!  
We're filling up the 2020 calendar with all kinds of new places and new adventures! 
If you have a moment, take a look at our calendar and see where we're headed, and hopefully we cross paths somewhere along the way. 
www.thedirtyrainrevelers.com/calendar  
We've got some local and regional shows coming in January, as well as a Yoga Music Mantra workshop in Lafayette, LA (1/18/2020) - The theme is on Renewal, Radiance, and Hope - elements we all need as we enter a new decade.  More info here: www.acadianayoga.com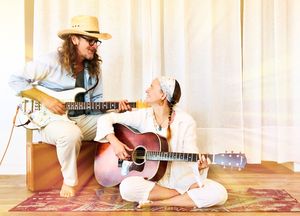 Mid-Feb to mid-March finds us escaping Mardi Gras to some degree and traveling out to the great Southwest. 
Then we return from that tour for a big show at home.... 
Mark your calendar for March 19th at Ogden Museum for the Ogden After Hours series. 
It's an honor and a delight to be showcasing our music at the Ogden Museum of Southern Art.  
We've got some new videos posted on YouTube and are in the market to sell two guitars - nothing wrong with making space in the New Year for new expressions. 
Demo videos are posted there of the Fender Jazzmaster and the Supro Hampton. 
Feel free to subscribe on YouTube as well, if you'd like - https://www.youtube.com/thedirtyrainrevelers 
We're now 2 years into our radio show on local, community supported station WHIV – We're on the air at 7pm every Wednesday – Killin' the Blues with Los DeOrazios – stream online at whivfm.org   
Big, huge thanks to everyone along the way for hosting us, supporting shows, helping in the various ways you do with words of encouragement, hope and hugs, house shows and the everything-everything.  
I hope you all are making resolutions to make time for self-care, to nurture the experiences that bring you joy, and to surround yourself with community that you find your soul drawn towards and uplifted by.  These are a few of our favorite things. 
If your town isn't listed on our calendar, send us a message and let us know you'd like us to come play for you!  #HaveSoundWillTravel - We love playing house concerts and gatherings (and festivals too!  If you know of a festival we should be playing, send us a message!)  
Thanks so much y'all!!!     xoxo M&M    
Melissa and Matthew DeOrazio 
The Dirty Rain Revelers