Hello and Happy New Year!
For those recently signed up, welcome and thank you!  For our longtime subscribers, we didn't realize how much time had passed since our last newsletter.  Winter has swallowed us into it's hibernation den, allowing us some downtime and internal recharging.  
We shared with you that last summer, our trusty 'ol Honda Element was wrecked (no injuries!) and we've been looking for another vehicle since then, but not rushing into decisions.  We are delighted to share that we just found a slightly newer Honda Element, affordable and familiar, and are so happy that we waited for the right situation to arise.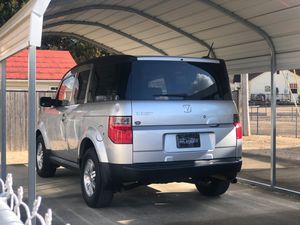 We continue to work (slowly) on this fabled 'new record' that we've been mentioning for awhile now.  Another avenue that we're intentionally not 'rushing into'; we want it to be the best it can be, but not break the bank doing so.  Side note, an inspiring, talented and independent songwriter we follow, Carsie Blanton, wrote a brutally honest account of the financial factors as a touring/recording artist.  I highly recommend reading it - for us, it was a good reminder that there are various definitions of 'success' and that what looks successful on the outside, doesn't always translate into financial freedom.  
While the winter has been chilly and quiet for us, with very few shows, we've been planning out our travels for the Spring-Summer-Fall seasons.  We'll be heading back to TX at the end of March for a run of shows, and are excited to play some new-to-us places.  Check the CALENDAR for where we'll be!
We've got some regional runs through Tennessee/Mississippi + a few more TX mini-tours this year as well.  
We'll also be making our first-ever MICHIGAN run in late August!!  We're super excited to get up that way.  If you have suggestions for places we should play and/or contacts, or would like to host a house concert, please let us know.  We'll be going through Tennessee/Kentucky/Indiana/Ohio on our way, so if you have suggestions for that region, we so appreciate the help and guidance.  New territory!
We hope all is well with you and that you're feeding your reserves with plenty of music, inspiration, fresh water and hugs!  Until we meet again somewhere on the dusty roads...
Be Safe, Be Kind, Be Love!